CONTRACTOR MANAGEMENT SOFTWARE
CONTRACTOR MANAGEMENT SOFTWARE

Touchscreen contractor sign-in software

Contractors need to be treated differently than a normal visitor as they bring an increased potential risk to your site. They may need to access normally restricted areas, work in potentially hazardous situations or operate specialist tools and equipment.
Our visitor management software includes PermIT - an optional dedicated contractor control module to check contractors in and out of the building, perform video inductions and record job information and documentation. Intuitive and quick to use, PermIT uses check-in touchscreens, issues contractor passes and authorisation to work credentials or photo ID cards as well as a flexible reporting function.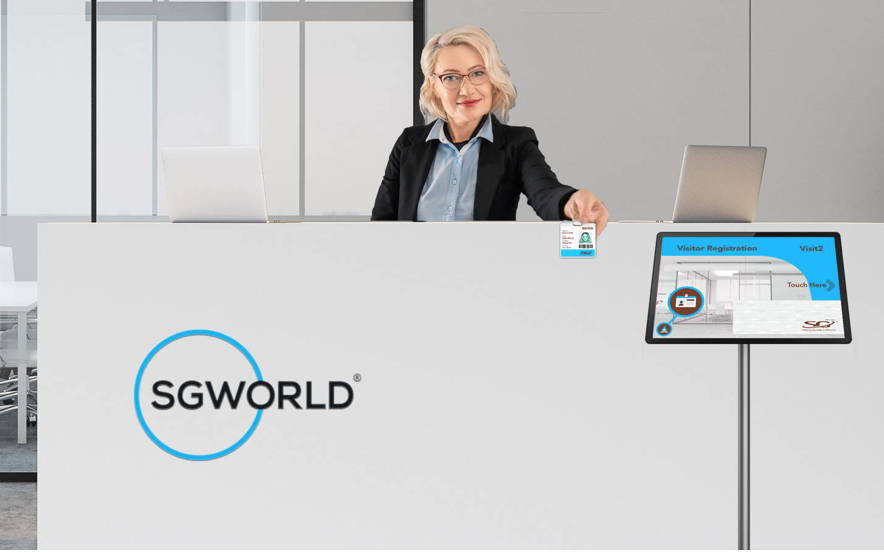 Why

SG World

for Contractor Management Software?
---

Upload supporting job documentation such as risk assessments, training documents, method statements and permits to work. PermIT accepts images and scans. Store centrally for easy retrieval.
Set up visual, audio or email alerts for instances such as insurance or accreditation expiries.

Use the touchscreen to run contractor induction videos communicating important site health and safety policies, with verification prompts.
---

Pass can be printed on a paper pass for short term visits or a barcoded plastic card for longer term visits incorporating whatever design you want eg: visitors, staff and contractors can have different designs for instant visual recognition.

Whether it's a paper visitor register or electronic sign in, a visitor management system helps a busy reception quickly capture visitor information in a structured way, provide site specific information and keep an accurate visitor record.

Accurately record and report on contractor movements and associate to specific jobs.