SITE SAFETY NOTICE BOARDS
SITE SAFETY NOTICE BOARDS
Site safety notice boards are a must for any manufacturing, construction or processing site. Our large format, health and safety notice boards can be prominently positioned to notify employees and visitors about what they need to do to keep out of harm's way. A dry-wipe, multi-function board is a versatile space to house important safety documentation, information, updates as well as a first kit. SG World is a leading UK provider of print safety solutions, we offer a fast turnaround on standard products and competitive pricing. Our in-house design team is here to offer advice and guidance and a full customisation service. Contact SG World for a top quality product and first-class customer service, whatever safety notice board design you are looking for.

CUSTOMISE WITH YOUR LOGO FOR JUST £20
For an additional £20 you can add your company logo to any of our standard site safety boards. Situated in the top left hand corner, simply upload your logo and position using our web tool when you buy online.
Health and Safety Site Noticeboard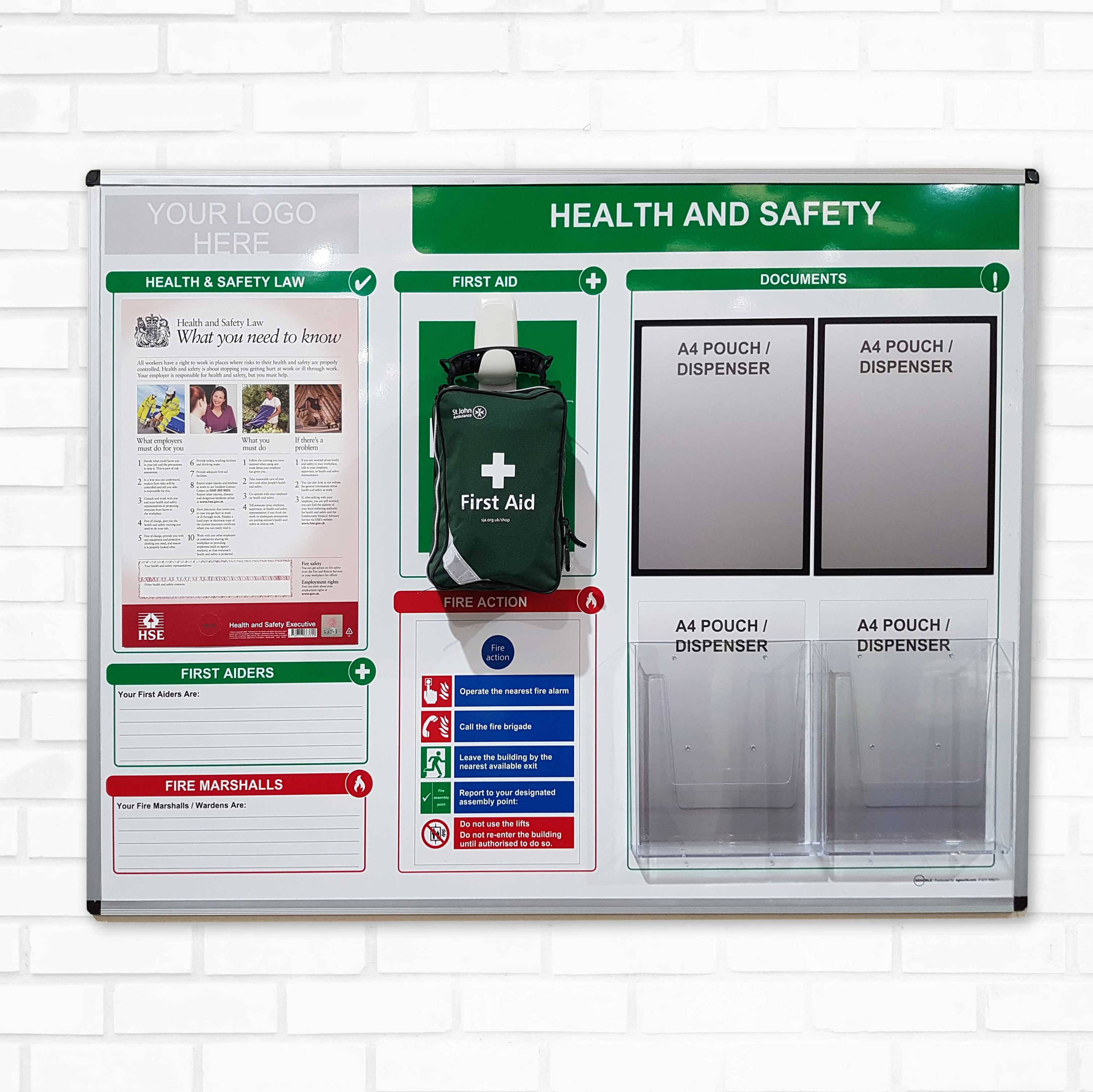 Our H&S notice board design includes all the things you would expect to see on a site safety board including a HSE H&S poster, first aid kit, wipeable space for your own written messages and a set of A4 leaflet pouches/dispensers. Constructed with a dry-wipe, magnetic finish and sturdy aluminium frame.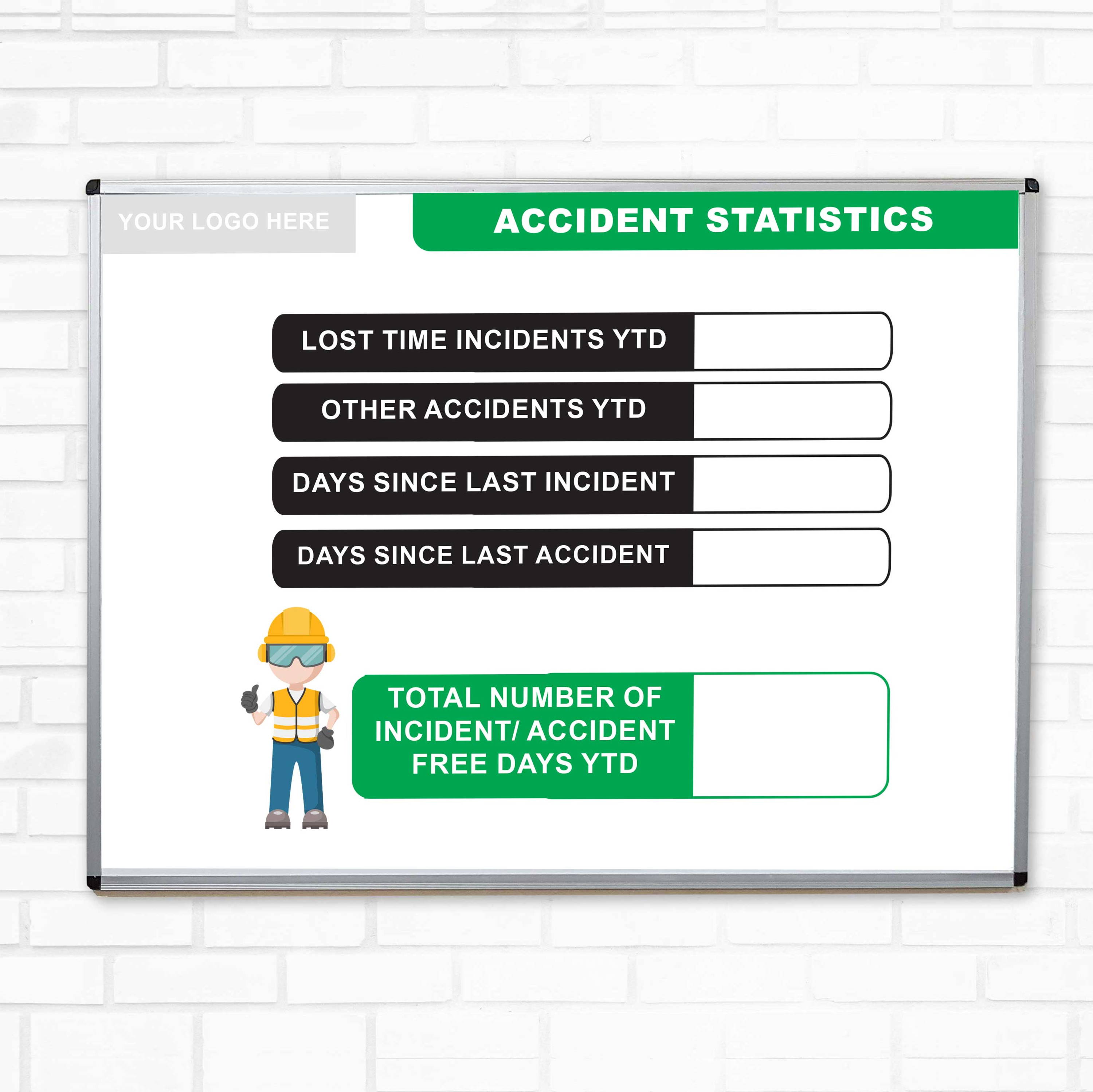 Share top level site incident and accident statistics with staff and visitors. Our simple yet effective design clearly communicates headline statistics and timeframes across a key number of categories. Constructed with a dry-wipe, magnetic finish and sturdy aluminium frame.
Permit-to-Work Control Board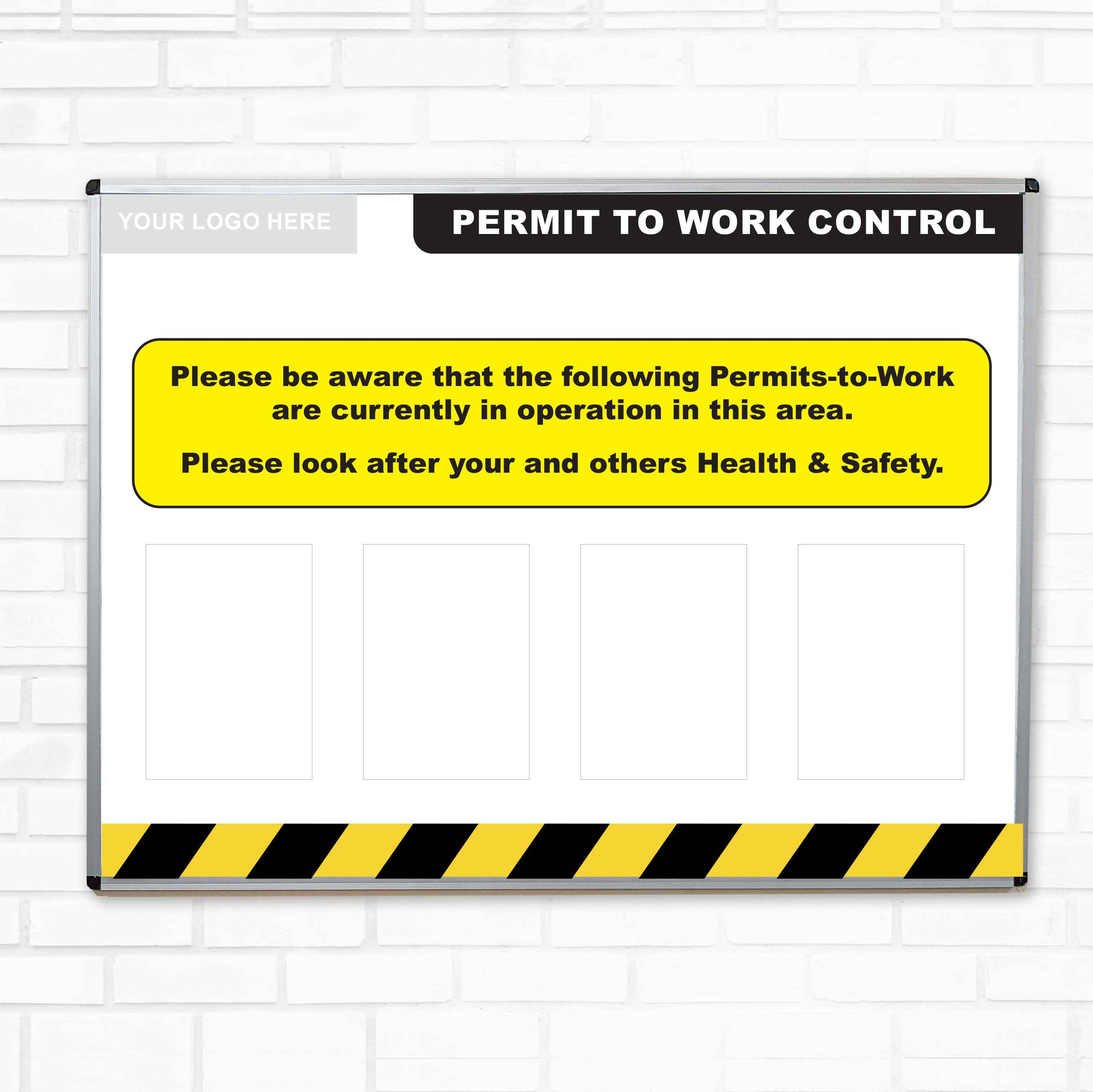 Permit to Work Control Boards support a best practice way of managing work activities on site. Our design is a simple way to provide visual information across departments on concurrent projects and eliminate potential conflict. Constructed with a dry-wipe, magnetic finish and sturdy aluminium frame.
CDM Safety Board with Med Kits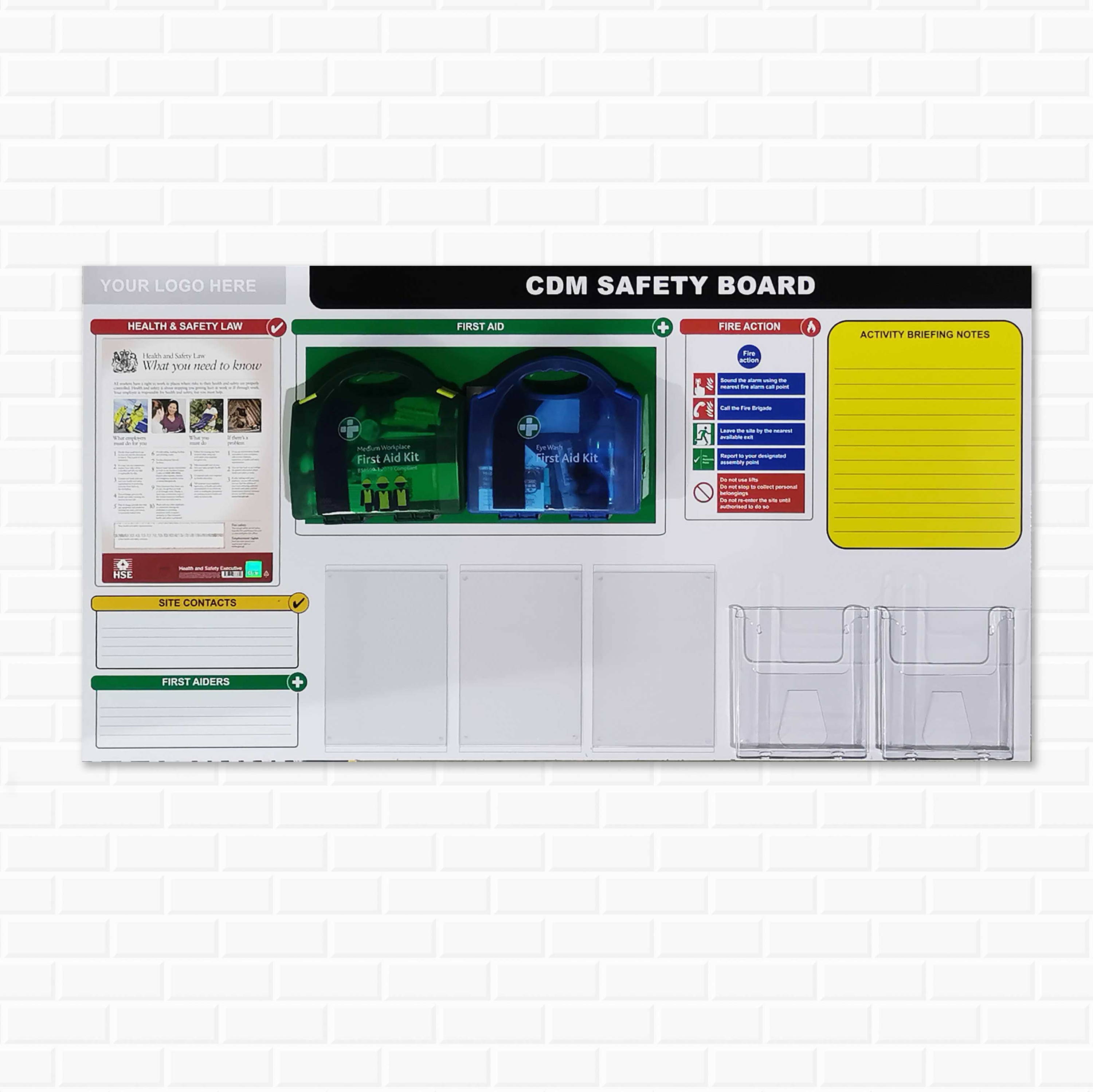 Our CDM notice board is a perfect way to communicate safety and other important information on a construction site. Our Med Kit Design includes a first aid and eye wash kit. Constructed in robust 5mm rigid foamex with a dry-wipe laminate.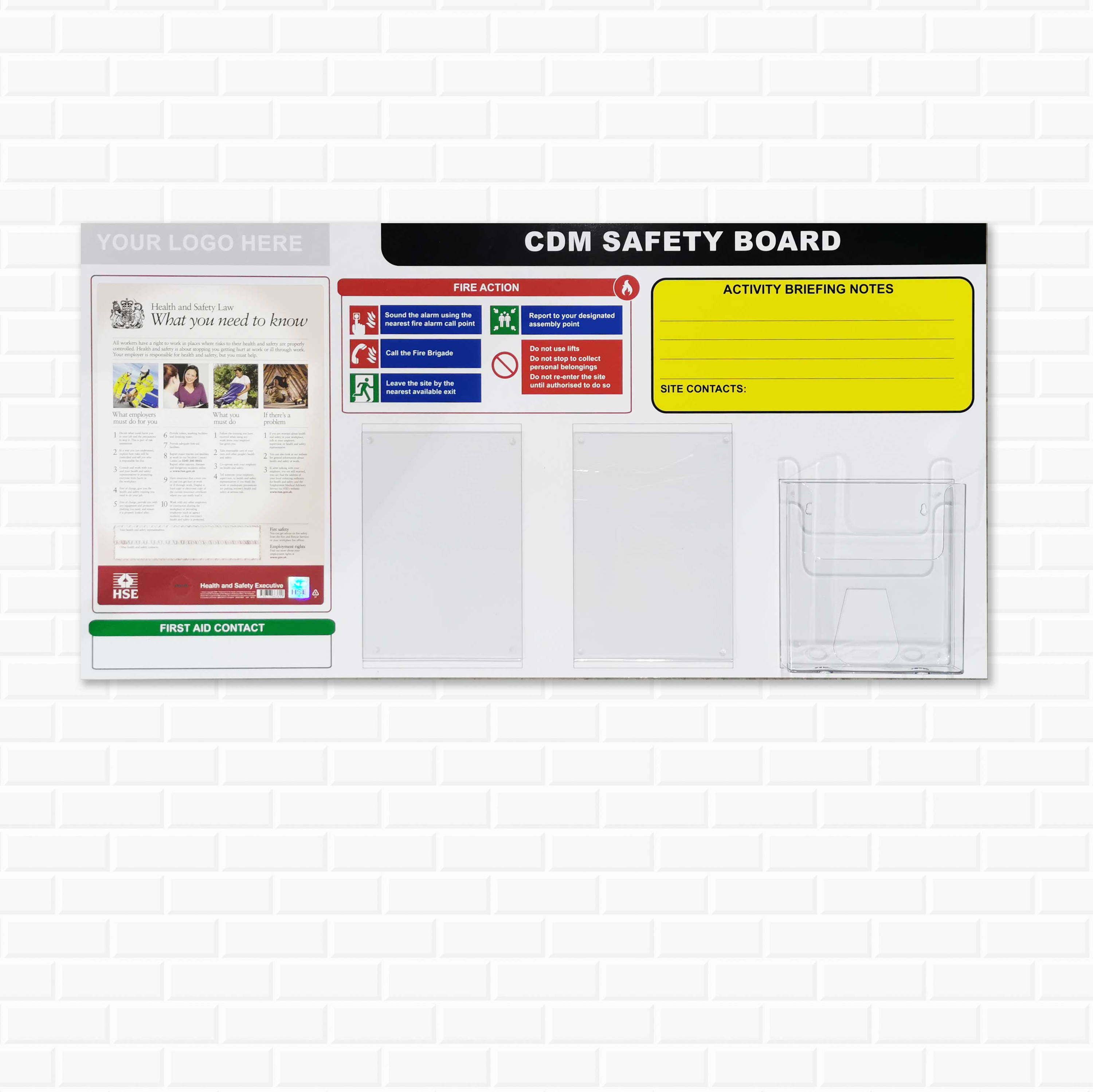 Our entry level CDM safety board includes three A4 spaces for F10's, PTWs etc and dry wipe areas to capture specific information for your construction site. Constructed in robust 5mm rigid foamex.
Choose from a range of footprints up to 120 x 240cm. We can print or tweak your own finished artwork. Alternatively, we can create a bespoke design from scratch from a range of materials including any specific safety board accessories.
Why do businesses need Health and Safety Notice Boards? 
Employees must have access to important information regarding their health and safety. In case of emergencies, they must know what to do and who to call. In the UK, the Health and Safety Information for Employees Regulations 1989, requires employers to either display the HSE-approved law poster or to provide each of their workers with the equivalent leaflet. Health and Safety notice boards are a useful way to post and communicate such important information at workplaces. Other useful resources to include are:
Health and Safety Policy

Employee Liability Insurance

First Aider Contact Details

Fire Evacuation Procedure
SAFETY NOTICE BOARD CUSTOMISATION
Fill out the form below or you can call our Customer Service Team on 01270 588211 or email enquiries@sgworld.com