School Asset Management
Proactively managing, tagging and tracking your assets to make the most out of your school inventory, from start to finish
School Asset Management
Proactively managing, tagging and tracking your assets to make the most out of your school inventory, from start to finish
---
What is Asset Management?
---
---
Asset Management can be defined as the pro-active, coordinated process of identifying and maximising your assets' value. This is a demanding task for any School Business Manager juggling many responsibilities, an average school can have hundreds of assets to track and manage, a trust will have many thousands. An asset can be a laptop/tablet, classroom furniture, technological teaching aid, books and resources, software licences or consumables like stationery and cleaning equipment.  
Asset management is knowing what assets you have, where they are, how much they are worth, how are they being used and when they need to be maintained or replaced. This information plays an important part in shaping financial decisions, insurance plans and demonstrating sound governance of public funding.
---
Why is Asset Management important?
---
---
Fundamentally if you don't know what you've got, how do you effectively deploy your resources and invest in the right areas?
Budgeting and Forecasting
Getting a handle on your asset inventory lets your school understand what resources it already has, accurately budget for replacements and maintain your fixed asset register.
Statutory Compliance
Both the Academy Trust Handbook and SFVS advise schools to manage their assets as a key part of financial governance and accountability. This focus on the asset register has grown, due in part, to the academies programme and the explosion in tablets for learning.
Maximising your Assets
There are two ways you can squeeze value from your assets. Firstly, you know that every asset is being utilised and you are not paying for dormant assets. For example, it's estimated 42% of CRM software licenses go unused because organisations have lost track of what they have and who's using them. Secondly, you have more control of your asset lifecycle and can manage preventative maintenance to extend their usable lifetime.
Disaster Planning and Insurance
In the UK there is an estimate of between 1400-1800 school fires each year, with 75% of these thought to be caused on purpose. This is just one of the reasons why schools pay for insurance but without an accurate asset list, have you got the right cover or paperwork? Does your disaster recovery plan include an accurate resource list that lets you quickly make a claim and access the funds you need to get back up and running?
Health & Safety
An asset management system can even help out with your schools Health and Safety obligations by uploading important Health & Safety documents into the system and recording safety inspections/test dates.
Further Resources:
Blog: Asset Management and Cost Savings for Schools
Blog: 7 Ways School Asset Management Helps Schools Complete the SFVS
Blog: Asset Management and the ATH
Blog: From one School Business Manager to another - what's the worst that can happen?
---
The School Asset Inventory
---
---
An asset inventory is different to a fixed asset register but they are both important. A fixed asset register is an accounting tool and will usually log everything over a certain value. Items on a fixed asset register are usually capital items that will depreciate over time. You can have physical assets which may not appear on the fixed asset register because they have fully depreciated but they are still being actively used by the school. Conversely, a ghost asset is something which appears on the fixed register but is lost, stolen or unusable. An inventory is a more detailed log of all your school assets which should inform your fixed asset register and give you a more complete view of your assets for budgeting and investment decisions, disaster planning and asset misappropriation.
Ideally you want your asset information in a format which is shareable, reportable and accountable so you can see where the inputted information has come from. It's up to you what you store but obviously the more detail you have the better picture you can build. Many schools set a minimum value and only record items worth more than a certain amount so you're not including every single calculator or text book in the asset inventory. You will also collect different levels of information for different sorts of assets – a classroom chair may have very basic supporting information whereas a tablet would necessitate more detail. Typically schools will have an asset tagging system in place where items are physically labelled with scannable barcodes or QR codes identifying the assets unique ID. Here are some of the inventory details/categories you could include:
Unique asset code

Date purchased/received

Estimated value of item

Building and room location

Make and model number

Order number
Purchase Price

Asset Status (e.g. on Loan)

Serial Number

Condition

Order Number
Unique asset code

Date purchased/received

Estimated value of item

Building and room location

Make and model number

Order number

Purchase Price

Asset Status (e.g. on Loan)

Serial Number

Condition

Order Number
It is usually best practice to initiate the asset tracking with an asset survey where you walk around the premises, identifying, tagging and logging all assets. All assets within the inventory should be checked at least once a year and asset data updated whenever something is changed – a location, a disposal etc. It's good practice not to delete an item from your inventory, you simply change its status if it's written off, lost etc with the reason why.
Further Resources:
---
What is an Asset Life Cycle?
---
---
An asset lifecycle is the various stages involved in the management of an asset from its initial procurement, throughout its useful life until it's eventual disposal. Throughout these stages the asset value will change based on age, depreciation and performance. Your asset management system should give you a realtime snapshot of where your asset is in its cycle so you get a view of the cost of ownership so you can make more informed decisions on future investments.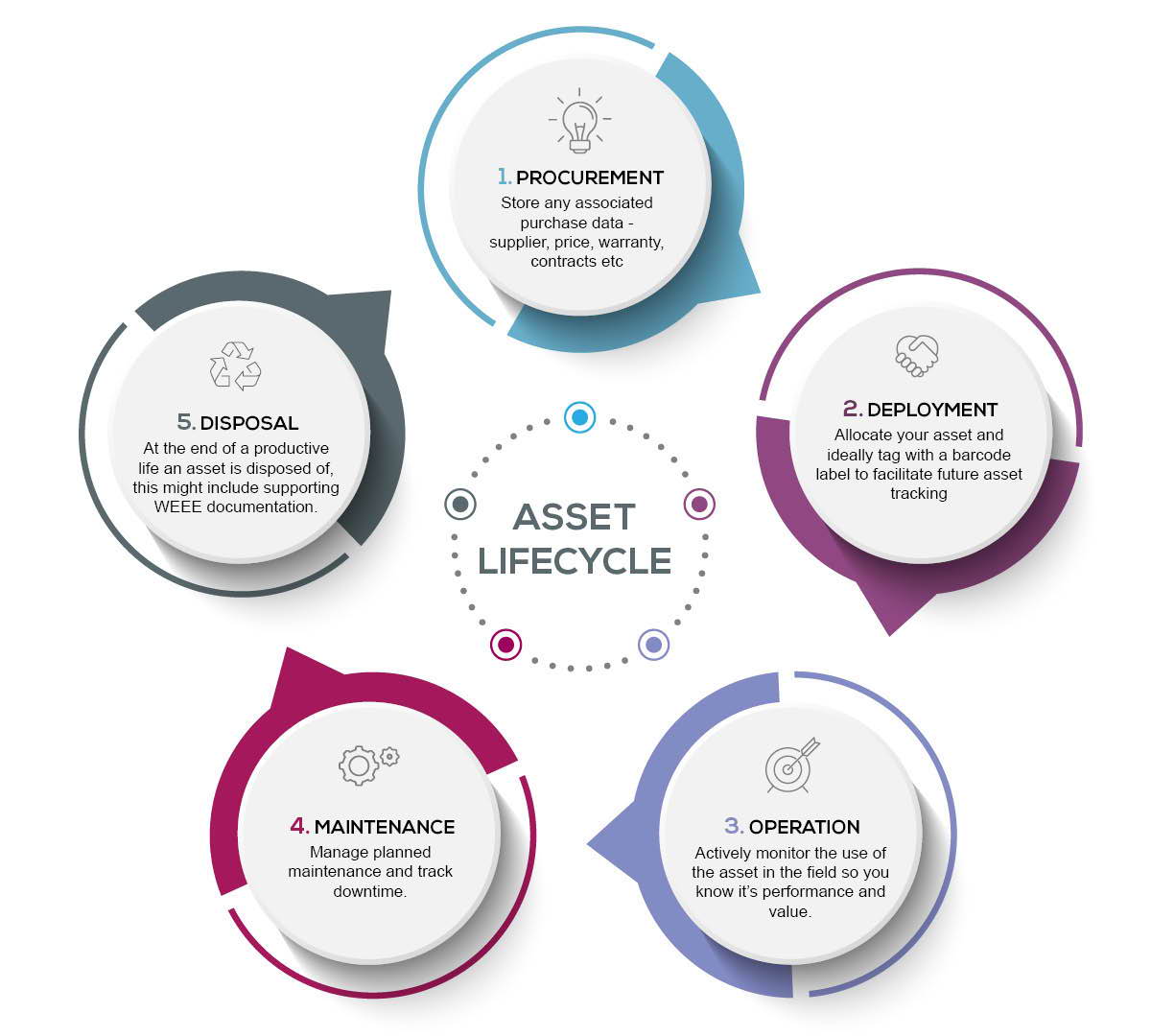 ---
What is an Asset Inventory Service?
---
---
In addition to an asset management software system, a school may choose to bring in external support with their inventory. This might be an initial asset tagging exercise to populate the new software database or an annual inventory check. In either case look for a provider with DBS checked staff, flexible working hours and experience of working in a school environment.
Further Resources:
Blog: Behind the scenes with our school asset auditors
---
What is Asset Management Software?
---
---
Manually keeping track of assets is a time intensive task, especially in schools who own large numbers of high value assets such as tablets, PC's and laptops potentially spread around multiple buildings. An asset management software system  will give you a reportable, big picture of your school asset portfolio in one centralised database. All your asset information can be reported on using a flexible set of parameters such as location, department, category, value or status. You can even manage areas such as contractual support and leasing agreements, PAT testing and software licences; in short, a complete management tool for all expenditure outside of staff wages.
Most asset management software will include a tagging system where assets can be physically labelled with a QR or barcode which can be scanned during an asset inventory to quickly check an item's location. A software asset database is also flexible enough to hold useful supporting asset information – maintenance schedules, safety tests, photographs and warranties.
Typically, an asset management software system will be web-based and accessed via the cloud so users can log in through any browser on or off school premises. In the event of fire or flood this feature could prove invaluable and the year 2020 also underlined the value of remote working. Multiple users can access the system to enter information in a consistent format, you can also grant user permissions to different levels of asset data.
In summary, asset management software is the quickest and easiest way to build, maintain and report on an up-to-date asset register for all hard and soft assets from PC's to important contract documents. There are many software systems in the marketplace including programs specifically designed for schools. The key features you would expect to see include:
Cloud-based architecture: The ability to login from any web browser
Reporting: a flexible reporting feature that can slice and dice the asset data into an up to date, accessible report
Asset tracking: The ability to track individual items, or groups of items using a mobile app, barcodes or QR codes
User Experience: a user-friendly interface that any user levels can easily navigate
Document importer: upload a range of file formats to associate with an asset such as images and pdfs
Check-in/check-out tool: To manage requests for borrowing equipment and resources
Asset Disposal Workflows: set up defined processes for disposing of assets or deleting data in a GDPR compliant way
Multiple user support: different logins for key members of staff, ideally with the facility to set different user permissions
Depreciation Models: automate asset depreciation for budgeting purposes
Further Resources:
Blog: Asset management - 6 Reasons to Ditch the Spreadsheet
Looking for more help with your School Asset Management planning?